Though we might not totally agree with what makes up the "perfect" running back, here is a look through the eyes of a scout.
By Stephen Sheehan
When Mike Loyko dreams of the perfect running back prospect, he thinks of Darren McFadden.
"He has the size, speed, vision and balance that an elite RB needs. When he is running he looks like he is in slow motion. He has a smoothness and everything looks easy."
"I believe when he is healthy he is the best RB in the NFL that includes Peterson."
That's a bold statement from the head scout for NEPatriotsDraft.com, but Loyko is no amateur in the scouting community. After watching the 1994 NFL draft at just 9-years-old, his days have been filled with making mock drafts, studying film and putting together a draft book.
During Loyko's time as a scout, he's encountered some fantastic running back prospects.
Although he's scouted dozens of the best backs in college football, the draft guru has a select group that stands above the rest.
"The best running backs from college I have seen (regardless of how they fared in the pros) are Ricky Williams, Darren McFadden, Adrian Peterson, Reggie Bush and Trent Richardson," he said.
"I also believe former BC RB William Green, who was draft by the Cleveland Browns, is one of the best college running backs I have seen, although his pro career was a bust."
So what separates these backs from the rest of the pack?
For Loyko, there are several key traits that turn a good back into a great one.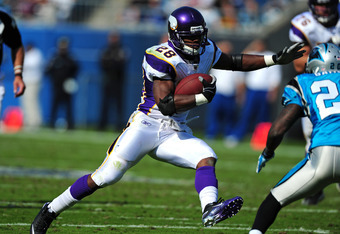 Scott Cunningham/Getty Images
One of the primary traits a back must possess is the ability to get to and through the hole with speed and explosion, he said.
Adrian Peterson is a perfect example of a back who exhibits this special quality. When Peterson receives the handoff, he wastes no time accelerating to the hole and bursting through it.
On the other hand, former Patriots' first-round pick Laurence Maroney lacked this type of explosive start. Despite having a solid size/speed combination, Maroney would commit one of Loyko's cardinal sins—dancing in the backfield.
Although Maroney averaged 4.4 yards per carry during his first two seasons, that number fell dramatically to a paltry 3.1 during his last three.
Loyko's second key trait is one that is often overlooked by fans, but important to scouts and coaches: balance.
As Loyko puts it, "[A running back] must be able to take contact, break tackles and make cuts at full speed with out losing speed of balance."
Along with that, he looks for a back's vision and anticipation when examining game film.
While it's certainly helpful for a back to possess all these traits, excelling at only some of them can make up for a lack of size or pure straight-line speed.